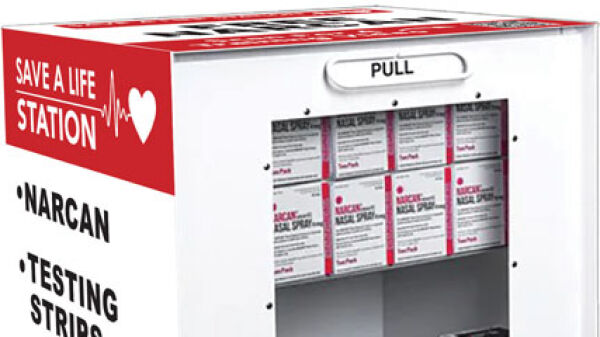 Alliance of Coalitions for Healthy Communities
Harm Reduction OpEd 
July 20, 2023
Non-profit group team up with Oakland County Sheriff's Department and Oakland Community Health Network. 
SAVE A LIFE STATIONS KEY COMPONENT OF COMMUNITY-WIDE HARM REDUCTION APPROACH TO SUBSTANCE MISUSE CRISIS
By Steve Norris
Director, Harm Reduction & Recovery Support
Alliance of Coalitions for Healthy Communities
Approximately 100,000 Americans die each year from a drug overdose; while here in Oakland County we lose about 250 citizens to overdoses each year. These individuals are not someone else. They live and work in our neighborhoods. They are our loved ones and friends; our neighbors and co-workers. The pain, the lost potential, the shattered lives reverberate throughout our society and communities.
Moreover, 75 percent of drug overdose deaths involve at least one opioid, with two-thirds involving synthetic opioids, primarily illicitly manufactured Fentanyl or Fentanyl analogs. These synthetic opioids are 50 to 100 times more potent than naturally derived opioids.  No one should die from adulterated street drugs.  No one should die when a drug prescribed for a legitimate medical use leads to an accidental overdose or addiction.
Shattering the stigma
Progress begins by accepting that substance use disorder remains a pervasive issue in our society, and that traditional treatment approaches that predominantly focus on abstinence-only models have not succeeded. 
Implementing harm reduction programs and policies in communities sends a message that society is willing to address addiction as a public health issue rather than a moral failing. Harm reduction promotes a more humane and compassionate approach to addiction, reducing the shame and stigma associated with seeking help and support.
It is time to shift our perspective and embrace a compassionate and pragmatic approach known as harm reduction, a philosophy rooted in both empathy and evidence-based practices.  By embracing harm reduction, we accept that complete abstinence may not be immediately attainable for everyone, and, instead, work to minimize the negative consequences of substance use.  Do we deny a crutch to someone who has broken a leg as therapy proceeds?  Do we deny nutrition, including needed carbs, to a diabetic as their hyperglycemia is treated?
Thus, instead of criminalizing addiction, harm reduction employs a spectrum of strategies that includes safer use, managed use, meeting people who use drugs "where they're at," and addressing conditions of use along with the use itself.
Save a Life Stations
Overall, we are working to remove the many obstacles and barriers that prevent individuals from seeking help or accessing professional resources. In this way, we can reach a broader population of people struggling with addiction and provide them with the tools and support they need to minimize harm.
Building on the experience of other Michigan communities and nationally, one of these important strategies are Save a Life Stations that the Alliance is now placing throughout Oakland County. Each Save a Life Station offers a two-4mg dose pack of nasal administered Narcan; fentanyl and xylazine testing strips; takeaway kits that allow for the safe disposal of drugs or medications; and informational resources such as Narcan administration training videos.  
Our first units were deployed in May, and we expect to have 60 units deployed by October of this year and 110 units in all by October of next year.  Community acceptance has been excellent, and we are already dispensing about 70 Narcan packs and 120 Fentanyl detection strips each day. Please visit the Alliance of Coalitions web site for a link to a map of available stations.  
Accessible 24 hours a day, seven days a week, this program can save lives by allowing individuals to identify drugs that have been mixed with powerful adulterants and, also, counteract life-threatening depressed breathing from opioids where and when it happens.   In addition to our member organizations in more than 55 communities in Oakland County, we have an outstanding partnership with the Oakland County Sheriff's Office and its Crisis Response Team, including its Rides for Recovery program, as well as full support and funding from the Oakland Community Health Network.
We want to emphasize that harm reduction does not condone or encourage substance use but recognizes the inherent worth and dignity of individuals caught in the cycle of addiction.  This takes our own maturity to withhold judgment and, instead, embrace solutions tailored to the undoubtedly complex issues any individual may face.  
When we value the inherent worth and dignity of individuals struggling with addiction, offering them a path to healthier lives, we also foster a more inclusive and understanding society.  Please join us in these efforts to heal and improve lives. 

Steve Norris is Director, Harm Reduction & Recovery Support for the
non-profit Alliance of Coalitions for Healthy Communities, formed as an extension of the successful Coalition of Healthy Communities (CHC) network. CHC was founded in 1993 by four local coalition groups seeking to strengthen their existing collaboration through the creation of an umbrella organization. In 2003, CHC members, with the support of Oakland County's Office of Substance Abuse Services, launched The Alliance to begin the next phase in Oakland Prevention.
Today, the Alliance has grown to include 21+ community prevention coalitions serving 55+ local communities and provides harm reduction, recovery support, wellness and prevention education for anyone affected by substance misuse.
 
Secondary Title
Harm Reduction OpEd